Virtual Heart Warrior Walk 2020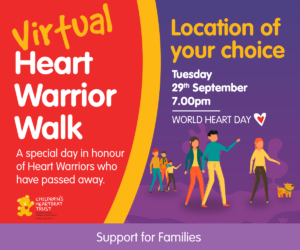 Unfortunately due to CV-19 restrictions, this year's Heart Warrior Walk will take on a different format though we will of course do our best to make it just as special.
Our Virtual Heart Warrior Walk is taking place on World Heart Day and we invite bereaved heart families to take part in a walk of any distance in honour of your heart warrior. We can't physically walk together so choose your own location but join with us virtually at 7pm on Tuesday 29th September 2020. Friends and family members are of course welcome to join in too but please keep current government restrictions in mind. If you are the family of a heart warrior that has passed away and would like to take part, we have a gift to send to you to before the walk takes place. In order to ensure it gets to you on time, please contact Cathy on 07436589480 or email [email protected] with your name, the name of your heart warrior and your postal address before Thursday 10th September. CHT Team x
Heart Warrior Walk
On World Heart Day, Sunday 29th September 2019, we held our first CHT Heart Warrior Walk in honour of heart warriors that have passed away.
The day started off with families making a unique kite dedicated to their heart warrior – we were very impressed with the creative designs! Once everyone had finished the kites we headed off, kites in hand, for a short, flat stroll around Antrim Castle Gardens and even managed to dodge most of the rain!!
After the walk, families were treated to a warm cuppa and lots of sweet treats before the kids were entertained with some balloon modelling and a magic show, giving parents the opportunity to get to know each other.
Overall, It was lovely way to catch up with so many heart families and honour their courageous heart warriors on World Heart Day. We look forward to meeting up again next year.
If you would like to learn more about our bereavement support for families that have lost a heart warrior contact Cathy on 07436589480 or email: [email protected].