"Our children enjoy meeting other kids with heart conditions and parents get to share stories and tips. It's a win-win situation!" – Heart parent
Clark Bear's Teddy Bear Picnic!
Clark Bear is having some friends round for a Teddy Bears picnic on Saturday 26th June and we would love local heart families to take part from home and host your own Teddy Bears picnic sometime that day for your family and fuzzy friends!
Taking part is really easy, just email or call [email protected] //  07436589480 with your name, postal address and number of children in your family and we will post out your pack! Packs will include some invites for your favourite teddy bears and friends, decorations, family activities and yummy treats…we are still working on the guaranteed sunshine but have our fingers crossed and our sun cream at the ready!
CHT Team : )
Clark Bear's Virtual Easter Egg Hunt!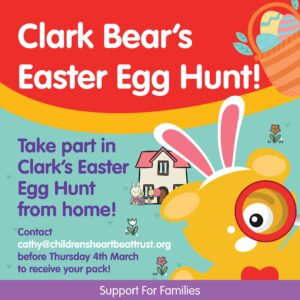 This year, heart families across NI can take part in Clark Bear's choctastic Easter Egg Hunt from home! Clark and his good friend the Easter Bunny have been very busy coming up with cracking clues and EGGcellent challenges to keep heart families busy on Easter Sunday.
To receive your pack containing clues, challenges, crafts and treats email Cathy with your name, postal address and number of children before
Thursday 4th March 2021. Hop to it!
CHT Team x
Summer Fun
During the summer, we hold two family fun days; one in June/July and the other in August. Our events are completely free to heart families, all you need to do is register and then meet us there!
Festive Fun
December brings about our CHT Christmas Parties! We work harder than santa's elves on our Christmas parties and as a result we have a day packed full of festive treats, activities and games as well as a very special visit from Santa himself!
Mums Day
This is a lovely event for heart mums to take some time out for some well-deserved pampering and relaxation. With pamper stations and lunch you are sure to leave feeling relaxed and comforted from the support of other local heart mums.
Dads Day
We had our first event for dads in 2017 and we had a great time! Following the success of the event we will hold an annual day out just for dads…. not exactly as relaxing as our mums events but a fab way to enjoy the company of other dads who can relate to what you have been through.