We have lots of ways you can keep up to date on all our events, news, fundraisers and projects. Make sure you don't miss out by signing up to our communications or following us on social media.
Heartbeats Magazine
We publish our Heartbeats magazine three times a year.  Packed full of news, family stories, ward interviews and family support updates, each issue gives you an insight into the world of congenital heart disease and the work of the charity. Click on the recent issues below to read online or sign up via the form to receive your copy in the post.
2019 Issues
2018 Issues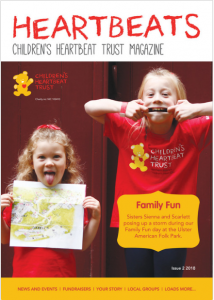 Issue 2
2017 Issues
Monthly E-zines
Our monthly e-zine means that you won't miss out on any upcoming events or opportunities! To receive this monthly update via email, simply send us your details via the submission form.
Chambers
Chambers is our quarterly update on the care of children with congenital heart disease in Northern Ireland. It keeps our stakeholders informed of the key issues, including how many heart families, we are aware of, that have travelled for surgery and to which surgical centre.