Tennent's NI part of the C & C Group have announced their charity partner fundraising total in support of Children's Heartbeat Trust, following a two year partnership.
In 2017 the firm chose the local children's heart charity as their charity partner helping support local children and young people affected by congenital heart disease. The firm are delighted to announce that since 2017 they have raised over £24,000.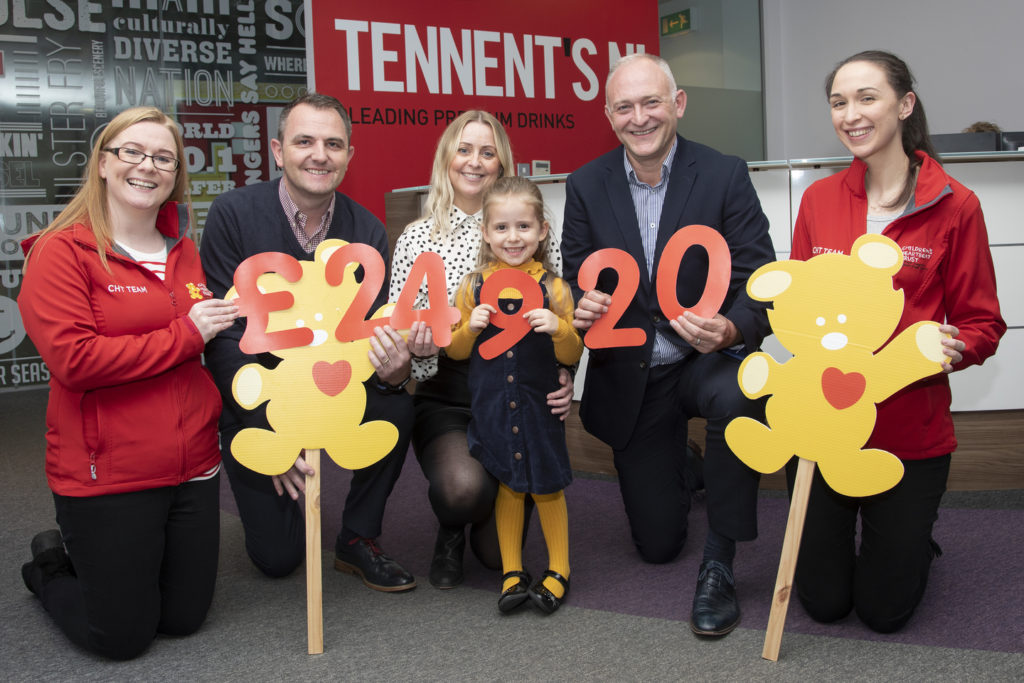 Lynn Cowan, from Children's Heartbeat Trust commented:
Throughout the two years, Tennent's NI organised a range of internal and external events to support the charity as well as partaking in Children's Heartbeat Trust campaigns.
"The support from Tennent's NI has been hugely beneficial and we are indebted to all staff who have supported us throughout the past two years and raising an incredible £24,920! These significant funds have allowed us to directly support 75 families with support grants who have had to travel outside of Northern Ireland to access their child's life saving treatment and provided 100 families to enjoy a break in our three respite caravans."
"Our support grants make a very real difference and are a crucial aspect of support; helping relieve feelings of financial stress and anxiety for families so that they can focus their time and energy to caring and supporting their child."
"We also see how important it is to have time together as a family and make precious memories and are delighted that so many families were able to avail of our respite caravans thanks to the support from Tennent's.  Our caravans are a welcome break close to home and make such a difference to families who are going through a stressful situation."
As a local charity, Children's Heartbeat Trust rely solely on public donations to fund their services and are extremely grateful to Tennent's for their support.
Janice McLernon of Tennent's NI charity committee commented:
"We are very proud to lend our support to Children's Heartbeat Trust over the past two years. With a personal connection through a number of staff members, we know the direct impact the funds we have raised will make in supporting local families.  We're delighted to hear the real difference we have made through the partnership and helping support the hundreds of children and young people affected by heart disease each year."
Children's Heartbeat Trust welcomes support from businesses and employees who wish to support us through a Charity of the Year Partnership, sponsorship opportunities or one-off fundraising events.
If you are interested in supporting our work through your employment, we would be delighted to come along and brief you on our work and how your support can make a difference.
Please email [email protected] for more information.