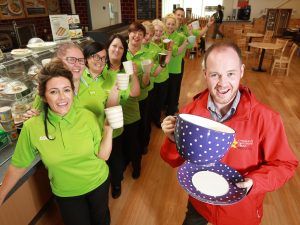 We're celebrating the 70th anniversary of the National Health Service this week alongside ASDA stores throughout Northern Ireland.
On top of the celebrations being held instore, anyone who works for the NHS into our store cafes on Thursday to enjoy a free hot drink.
Ahead of the big anniversary, some of the community champions from our stores in Northern Ireland met Gareth McGreevy from the Children's Heartbeat Trust to find out more about the NHS charity's work helping children with heart disease and their families.
Gareth said: "The support we've been given by the community champions and Asda has been absolutely fantastic."
"We're a relatively small charity, and to have such a large retail partner on board is only going to be of great benefit for us and help us spread our message. It's a great opportunity to tie in our work with the 70th birthday of the NHS, and gets the message out about us and the support service we offer."
Representatives from other local NHS charities and hospitals will be joining colleagues in many of our stores to raise awareness and funds for their various causes.
Elaine Livingstone, community champion at our Portadown store, will be hosting one of the 'Big7Tea' afternoon tea events in the store's cafe on 5 July.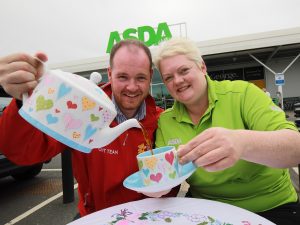 Elaine, who's pictured here with Gareth, said: "We're so happy to be supporting the NHS. There can't be many colleagues and customers in the store who haven't been helped by the service. "We've got the Mayor coming down to support our event, everyone is really looking forward to it. We're hoping to raise awareness and money while having some nice tea and cake!"
Be sure to check out the local tea parties near you this week:
Antrim – Tea Giveaway to NHS Workers and
Instore Tea Party on Friday 6th July @11am
Bangor – Instore Tea Party on Thursday 5th @ 10am
Coleraine – Tea Giveaway to NHS Workers and
Instore Tea Party on Thursday 5th @ 12pm
Dundonald – Instore Tea Party on Saturday 7th and they are also supporting a community Fundraiser on Sunday 8th
Enniskillen – Tea Giveaway to NHS Workers and Instore Tea Party on Thursday 5th @ 11am
Portadown – Instore Tea Party on Thursday 5th July 2pm – 4pm
Lord Mayor in attendance due to connection to Children's Heartbeat Trust
Larne – Instore Tea Party on Thursday 5th July from 12pm – 2pm
Asda Westwood and Shore road will be holding another tea party on the morning of Tuesday 10th July in St. Agnes' Parish Hall