Back in February 2016 both Conor and I were excited to be going to our 20 week scan. We couldn't wait to find out about our little baby and make sure everything was ok. During the scan the lady couldn't get a clear picture of the baby's heart and asked the consultant to come in and check. As the consultant checked everything over, he said it looked like the left ventricle of the babies heart had not developed as it should. Tears began to drip down my face, 'what does this mean?'
We were referred to a special cardiac doctor in the Royal Victoria Hospital to undergo a further ultrasound. He confirmed that our little baby (Cate) had Hypo-plastic Left Heart Syndrome. When the specialist explained what 'HLHS' was – we were hit with a rollercoaster of emotions. We sat and listened to what this would mean for us and our little baby. We were devastated, confused and worried.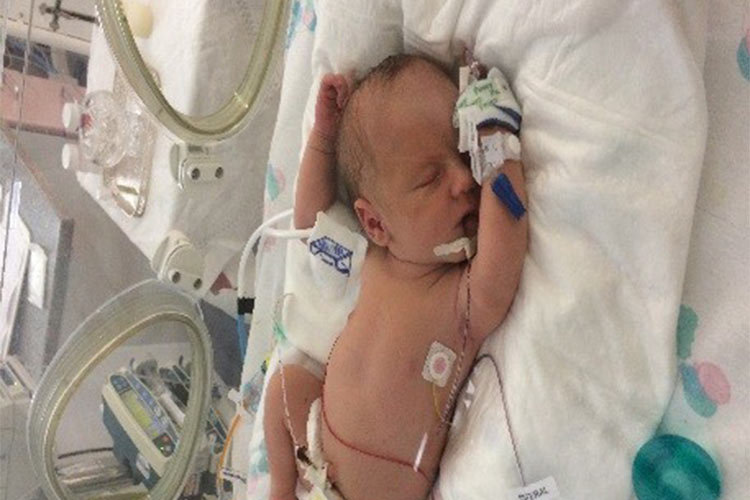 From that day our heart journey began, the consultant outlined the varying options and routes that were available to us. Surgery was the only road we wanted to go down, we knew it was going to be tough – 3 open heart surgeries in the early stages of Cates life.
The excitement of being pregnant disappeared and it became a time of extreme worry accompanied by anxiety. While we tried our best to carry on with our daily lives, it was very difficult and any free moment our minds would go into overdrive.
Cate decided to make an early arrival and on Friday 27th of May, our beautiful baby girl was born. She was just beautiful, but we only got to hold her for a few moments before a team of doctors took her away to be stabilised. Later that night, when we got to properly meet Cate, she was snuggled in an incubator in NICU. We longed to hold her and give her a cuddle but all we could do was reach in and hold her little hand. On the Saturday we were informed that we would be leaving for Birmingham the next day.  The decision was made for Cate to be christened as we needed to plan for all eventualities.
We set off to Birmingham via air ambulance and we later arrived on Ward 11. Nothing could prepare us for the next few days. Cate went for the Norwood procedure and was in theatre for 7 hours. When she came back her chest was open and every part of her body had a line going into it giving her medicine. After 9 long days Cate went back up to the ward, everything was looking good. Unfortunately for Cate, feeding and weight gain were such an issue and they couldn't find the correct remedy. We spent a further 3 weeks on the ward and there were times when we feared the worst but Cate had an inner strength that would see her through as she overcame all obstacles she faced.
Due to Cates surgery, her vocal cords were damaged and she was diagnosed with Bi-lateral Vocal Cord paralysis with stridor- which made her a very loud baby! All Cates feeding was through NG tube, nothing orally at all.  Conor and I were extremely lucky that we had family in Birmingham as they really helped and supported us through this difficult time.
Finally, we got the good news we wanted, we could go back to Belfast. We arrived on Clark Clinic to such a warm welcome and although we didn't realise it at the time, Clark Clinic would be our home for the next 2 months. Cate had good days and bad days on the ward, home felt very far away. Days were long but we made some lovely new friends who were also on a similar journey – you could be crying one moment, cracking a joke the next. During our time on the ward all the staff were amazing and the Children's Heartbeat trust were also a great support.
Cate showed immense strength and at the end of August we got home. We were going home with a very delicate baby and it was our job to keep her as well as possible while waiting for the 2nd stage.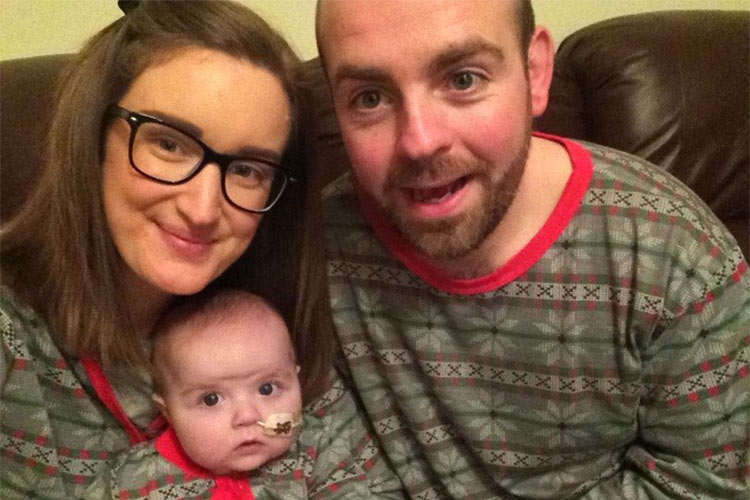 Cate had a few stays back in Clark clinic and we had to travel back to Birmingham in September for a cardiac catheter. We then got the call that Cate would have her 2nd stage operation on the 11th of December. We were relieved that a date was agreed but this time we were completely aware what was happening, what it meant for Cate and we worried about her recovery. 8 hours of surgery later and Cate was back in PICU. We had an extremely rough few days in PICU however Cate showed that fighting spirit and returned to the ward. Cate made a good recovery and after spending a total of 13 days in Birmingham we got to travel back home- just in time for Christmas! We were delighted and so proud of our little warrior.