*UPDATE
A massive thank you to everyone who took part in our Mile A Day in May 2021. We have been blown away by the response to this event following months of restrictions and lockdowns.
We are busy working away getting everyone their thank you certificates to acknowledge the amazing funds you have all raised.
We hope the announce the total in early August, once we have all donations collected. It's set to be BIG, thanks to your incredible support, so watch this space!
If you didn't get to take part we can't wait to have you involved in Mile A Day in May 2022!
CHT TEAM.x
This May, get out and get active as we head out of lockdown in our Mile A Day challenge – one that the whole family can get involved in.
All we ask is that for every day in May you walk, run, cycle, hop, skip or jump a mile each day. Whatever takes your fancy!  It's a great way to get you outdoors, boost your mood and support your overall health and fitness and at the same time supporting local children with heart disease.
With no government funding, we are reliant on the generosity and support of amazing people like you taking part in challenges like our Mile a Day in May and raising sponsorship.
We would encourage you to get a sponsor for each mile you complete. Why not let family, friends and work colleagues choose a day to sponsor you and on that day they walk, run or cycle a mile also for encouragement and support?
There are plenty of free apps that will allow you to track your miles such as Strava. You can screenshot your daily mile as well as sharing photos and videos throughout the month of May to your social media pages – the more updates, the more awareness you raise for the charity and funds to support our core services.
How do I get involved?
Please register with us to take part.  Simply email us below with who in your family will be taking part, including kids and your contact details and address.
Email: [email protected]
Registration is free. All we ask is that you try and raise some sponsorship as part of your Mile A Day Challenge.
Please know, however much you raise, we truly appreciate every single donation which will have a positive impact on the support we can provide to local families.
You can set up your Mile A Day Fundraising page HERE
Register by Wednesday 31st March to guarantee your Mile A Day T-shirt!  Please email us what size you require when registering.
*limited quantities available*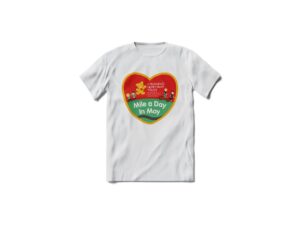 Once registered we will then email you with a Mile A Day Fundraising pack with hints and tips on getting the most out of your challenge along with your T-shirt in the post.
(Please watch out as some of our correspondence may go to your junk/spam folder)
Don't Forget Government Guidelines
In this ever changing climate and with us emerging from lockdown slowly, rules and guidance can change, so please ensure you comply with the most up to date regulations when completing your challenge. Please check indirect.gov for the latest information and advice.
Thank You!
A sincere thank you for your taking on our Mile A Day in May Challenge. We really appreciate your support!
Please feel free to get in touch with any queries.
Tel: 028 9031 2228/ 074 8337 4910
Email: [email protected]